Northwestern Memorial Hospital is hosting a half-day conference on Saturday, May 17th called "State-of-the-Art Hysterectomy: The Robotic Surgical Option."
Dr. Patrick Lowe will be one of the speakers at this event. He was one of the doctors who participated in the Oncofertility Saturday Academy, teaching students from the Young Women's Leadership Charter School about oncofertility and surgery. Those who attended Dr. Lowe's module were given the opportunity to operate a Da Vinci robotic surgery machine – the same machine used to perform minimally-invasive hysterectomies.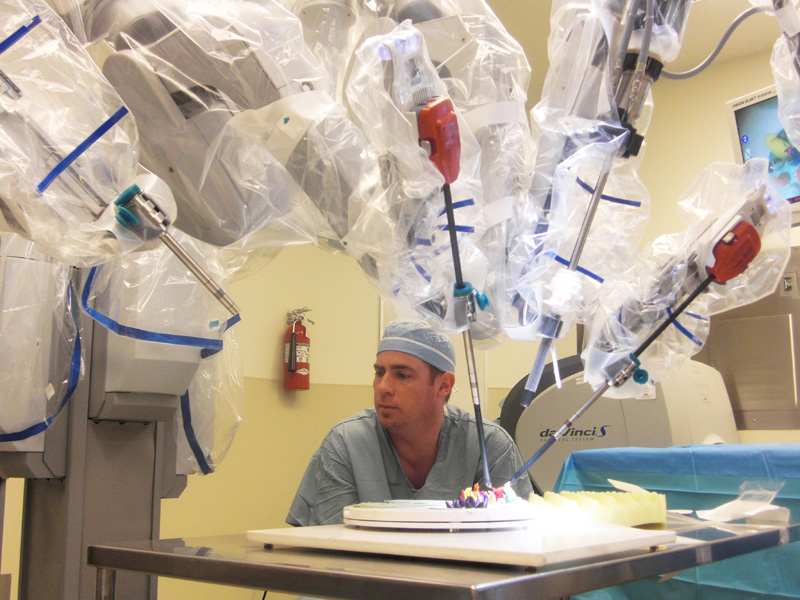 Dr. Patrick Lowe from Northwestern Memorial Hospital stands by as a student from the Oncofertility Saturday Academy tries her hands at the Da Vinci robotic surgery machine, sometimes used to perform hysterectomies. Photo by Tara S. Kerpelman
The event at the hospital will include lectures, demonstrations and a talk by a patient who underwent robotic surgery.
The conference start at 8:30am and it costs $20.
For more information, go to Northwestern Memorial's site: Robotic Hysterectomy Event.