About The Oncofertility Consortium
The Oncofertility Consortium is an international, interdisciplinary initiative designed to explore the reproductive future of cancer survivors.
Survival rates among young cancer patients have steadily increased over the past four decades in part because of the development of more effective cancer treatments. Today, both women and men can look forward to life after cancer, yet many may face the possibility of infertility as a result of the disease itself or these lifesaving treatments.
The Oncofertility Consortium addresses the complex health care and quality-of-life issues that concern young cancer patients whose fertility may be threatened by their disease or its treatment.
The Consortium represents a nationwide, interdisciplinary, and interprofessional network of medical specialists, scientists, and scholars who are exploring the relationships between health, disease, survivorship and fertility preservation in young cancer patients. Their work and its findings may also extend to patients who have been diagnosed with other serious diseases and who must undergo fertility-threatening treatments.
Here, you'll find information about Oncofertility and the work of the Oncofertility Consortium, as well as resources that will help you navigate the complex fertility issues facing patients with cancer and other serious diseases.
– Teresa K. Woodruff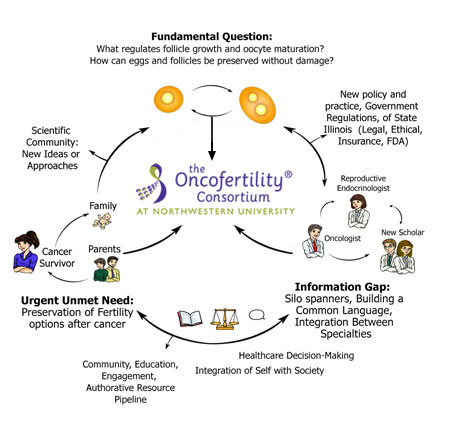 Fundamental Questions
What regulated follicle growth and oocyte maturation?
How can eggs and follicles be preserved without damage?
Oncofertility is an interdisciplinary field at the intersection of oncology and reproductive medicine that expands fertility options for cancer survivors.
The Administrative Core of the Oncofertility Consortium is housed at MIchigan State University, which administers and organizes the activities of the National Physicians' Cooperative and Global Partners Network. Michigan State University provides research space, materials, and support for the research projects and hosts the annual Oncofertility Consortium Conference to discuss oncofertility science and research.
The Oncofertility Consortium and its Center for Reproductive Health After Disease bring together professionals in reproductive medicine, reproductive health research, oncology, biomechanics, materials science, mathematics, social science, bioethics, religion, policy research and educational sciences to expand current knowledge, research, clinical practice, and training for a wide spectrum of issues including:
Mechanisms underlying the fertility threat of life-preserving cancer drugs.
Methods for cryopreservation (freezing), storing and growing ovarian and gonadal tissue.
In vitro follicle growth and oocyte maturation using a three-dimensional environment.
Communication barriers between cancer patients and health care providers.
Ethical and legal concerns regarding the use of fertility preservation technologies in cancer patients.
And more…