Oncofertility Professional Engagement Network
Welcome to the new Oncofertility Professional Engagement Network (OPEN)!
OPEN will build upon the past successes of the National Physicians Cooperative and Global Partners Network and continue to foster international and interdisciplinary collaborations.  The NPC and Global Partners Network developed at different times and with different original needs.  The current need is to unify the emerging technologies and best practices that emerge from rural communities to large metropolitan cities, both domestically and abroad, into a functional unit.  OPEN will bridge this gap between domestic and international programs and in so doing create another corridor where members share resources, best practices, methodologies, and experiences.
To Become a Member
Membership is free and open to any center that is providing fertility preservation options to patients. All former NPC and Global Partners members are now members of OPEN.  Please use our membership form.  Any other questions, updates or interest of membership – contact us.
Scientific Committees
OPEN will utilize the subcommittee format to organize individuals and groups with similar interests. All members will be able to participate in previously NPC specific committees.  OPEN Scientific Committees include: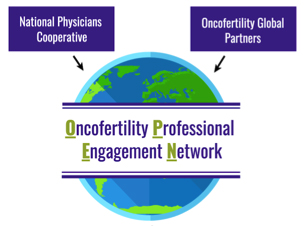 Children & Adolescents
Female
Male
Basic Science
Humanities
Education
Systems Optimization, Advocacy & Resource (SOAR)
Startups
Surgery
Non-Oncological Conditions
Annual Conference & Biennial Book
Practice Committee
Patient Navigation
Onco-Sexuality
These committees will meet both virtually (through the use of Zoom and other video conference applications) and in-person (in conjunction with the annual Oncofertility Conference) to develop new research protocols, identify best practices, and discuss challenges and pathways to success. As the field progresses, and new interests begin to emerge, we will identify leaders in those new subfields who are equipped to lead the committees and participate in the activities of OPEN.
Member Benefits
There are a number of benefits that OPEN members will receive for their partnership. Most importantly, OPEN members will have access to a large network of peers and colleagues who have made tremendous scientific and clinical discoveries.
Other benefits include: