Site:  Northwestern University
Principal Investigator:  Teresa Woodruff, PhD
Rationale
While advances in radiation and chemotherapy have improved survival rates, these treatments may also permanently impact the reproductive capacity of cancer survivors.  Nevertheless, fertility preservation technologies have made the phrase "families after cancer" a reality for many young women.
The role of the new oncofertility specialist is to bridge the gap between oncology and reproductive medicine and help patients navigate the available fertility preservation options and provide individual solutions based on factors such as age, partnership status, time constraints prior to cancer treatment, planned treatment regimen and overall medical condition. To provide this information to patients effectively, it is necessary to first evaluate the reproductive axis and its response to cancer treatment in a rigorous manner.
Unfortunately, there are few options for fertility preservation that can be offered to children and young girls diagnosed with cancer and other serious diseases. Development and application of new technologies that can be offered regardless of age is necessary to expand the possibility of having a family after cancer to to all female patients diagnosed with cancer.
The objectives of this project are to:
Assess ovarian function and develop methodology for predicting the risk of impending premature ovarian insufficiency based on a young woman's cancer treatment plan
Evaluate the toxicity of existing and new chemotherapeutic agents on in vitro follicle culture survival and maturation in order to determine a relative fertility risk
Optimize current in vitro follicle culture methods in established murine and non-human primate models and translate the successful system into methods that support human follicle growth, steroid production and oocyte maturation in vitro
Key Experiments
Perform a longitudinal study of women with a new cancer diagnosis to measure their ovarian reserve before, during and after cancer treatment using ultrasound imaging of the ovaries, serum hormone levels, ovarian blood flow and follicle attrition
Add varying doses of the main types of cancer therapeutic agents, and any newly developed drug therapies, to the established murine follicle culture model for the identification of trends in the type of in vitro damage caused to the follicle
Create the optimal in vitro environment for growth of human follicles by collectively providing the proper mechanical support, growth factor and hormone contribution exposure in a time and stage dependent manner
Consortium Support and Impact
The successful execution of this project and eventual translation of results to the clinic require close collaboration with other members of the Oncofertility Consortium. Specifically, cooperation with the Biomaterials Core  and two other Consortium projects that are focused on new methods for follicle cryopreservation and maturation of ovarian follicles in nonhuman primates will be paramount to achieving project goals. In addition, the ability to recruit patients through the National Physicians Cooperative will provide sufficient materials and statistical power to correlate treatment and outcomes data in a comprehensive and thorough manner and to rapidly disseminate new developments for clinical application.  Other Consortium projects will be impacted by the human application of in vitro follicle maturation. This work is expected to open up new avenues of social and ethical inquiry in oncofertility, particularly with regard to its application in pediatric cancer patients. Education of patients and physicians and training of oncofertility specialists will also be necessary to ensure that new fertility-conserving techniques become part of routine cancer care worldwide.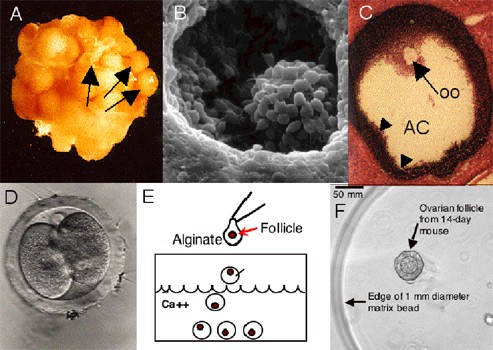 Publications
Barrett SL, Woodruff TK. Gamete Preservation. Cancer Treatment and Research. 2010; 156: 25-39. PMID: 20811823.
Barrett SL, Shea LD, Woodruff TK. Noninvasive Index of Cyrorecovery and Growth Potential for Human Follicles In Vitro. Biology of Reproduction, 2010.
Lei L, Jin S, Mayo KE, and Woodruff TK. The Interactions Between the Stimulatory Effect of Follicle-Stimulating Hormone and the Inhibitory Effect of Estrogen on Mouse Primordial Folliculogenesis. Biology of Reproduction, 82, 13-22, 2010.
Jin S, Lei L, PhD, Shea LD, PhD, Zelinski MB, Stouffer RL, and Woodruff TK. Markers of growth and development in primate primordial follicles are preserved after slow cryopreservation. Fertility and Sterility, 2010.
Jin SY, Lei L, Shikanov A, Shea LD, and Woodruff TK. A Novel Two-Step Strategy For In Vitro Culture Of Early-Stage Ovarian Follicles In The Mouse. Fert. Ster. 2010.
West ER, Shea LD, and Woodruff TK. Engineering the Follicle Microenvironment. Semin Reproduction Med. Vol 25 No 4 287-99 July 2007
West-Farrell ER, Xu M, Gomberg MA, Chow YH, Woodruff TK, and Shea LD. The Mouse Follicle Microenvironment Regulates Antrum Formation and Steroid Production: Alterations in Gene Expression Profiles. Biology of Reproduction, 80, 432–439, 2009.
Xu M, Kreeger PK, Shea LD, and Woodruff TK. Tissue-Engineered Follicles Produce Live, Fertile Offspring. Tissue Engineering Vol 10 2739-46 Oct 13 2006
Xu M, West ER, Shea LD, and Woodruff TK. Identification of a Stage-Specific Permissive In Vitro Culture Environment for Follicle Growth and Oocyte Development. Biology of Reproduction Vol 75 916-923 Sep 6 2006
Xu M, Barrett SL, West-Farrell ER, Kondapalli LA, Kiesewetter SE, Shea LD, and Woodruff TK. In Vitro Grown Human Ovarian Follicles From Cancer Patients Support Oocyte Growth Human Reproduction. Vol.24, No.10 2531-40 Oct. 24, 2009
Xu M, Fazleabas AT, Shikanov A, Jackson E, Barrett SL, Hirshefeld-Cytron J, Kiesewetter SE, Shea LD, Woodruff TK. In Vitro Oocyte Maturation and Preantral Follicle Culture from the Luteal Phase Baboon Ovary Produce Mature Oocytes. Biol Reprod. 2011 Apr;84(4):689-97. 2010 Dec 1. PMID: 21123815
This research was supported by the Oncofertility Consortium®, funded by the National Institutes of Health through the NIH Roadmap for Medical Research, Grant UL1DE19587 and RL1HD058295.