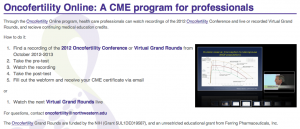 The oncofertility community aims to educate both oncology and reproductive specialists throughout the United States and across the globe. Over the past five years, the Oncofertility Consortium has done this through an annual conference and monthly Virtual Grand Rounds. This year, we've gone one step further in providing clinical education by offering continuing medical education credits (CMEs) to health care providers, including physicians, nurses, and physicians assistants.
This program, called Oncofertility Online, allows health care providers to watch virtual presentations from the 2012 Oncofertility Conference and receive CME credits for their participation. In addition, providers can now watch live or recorded presentations from selected Virtual Grand Rounds (October 2012 – October 2013).
If you are interested in receiving CMEs by watching these recordings, just find a presentation and follow the instructions, which include taking a brief pre-test, watching the recording, and taking the post-test!
Also, you can join the next live Virtual Grand Rounds on Thursday, December 13th, 2012 at 10 AM Central Time on the "Reproductive Impact of Cancer Treatments and Fertility Preservation Options for Cancer Patients" which will be led by Jennifer Hirshfeld-Cytron, MD, MSCI, Assistant Professor, Obstetrics & Gynecology, University of Illinois Medical Center and Mary Ellen Pavone, MD, Assistant Professor, Obstetrics & Gynecology, Northwestern University. View the current list of the 2013 Virtual Grand Rounds here.