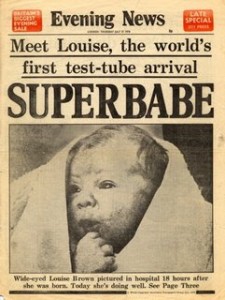 The Nobel Prize committee announced today that the 2010 Nobel Prize in Physiology or Medicine is awarded to Dr. Robert Edwards for his role in developing human in vitro fertilization (IVF).
In the 1950s, a young Robert Edwards earned his Ph.D. by performing research on the reproductive physiology of mice. After graduation, he became increasingly interested in helping patients with infertility. According to a 2001 commentary in Nature Medicine, he lamented, "What could I do for patients? Literally nothing until human eggs were fertilized in vitro."
Over the next thirty years, Dr. Edwards studied the maturation of immature eggs, called ooytes, and determined that different hormones could help women mature multiple eggs at one time. With the help of gynecologist, Patrick Steptoe, the world expert laparoscopy, a procedure that can be used to remove oocytes, the team combined their expertise to help infertile patients. In late 1977, the collaborators removed an egg from Lesley Brown, fertilized it in a petri dish, and successfully transferred the resulting eight-cell embryo back to Brown in a procedure now commonly called IVF.  On July 25, 1978 Louise Brown was born to much fanfare and labeled the first "test-tube" baby.
Since that time more than 4 million children have been born from IVF and it is used in about 3 percent of all live births in developed countries. IVF is also frequently used as a method for fertility preservation for cancer patients. In such cases, women who can, delay cancer treatment to mature multiple eggs and then have them removed and fertilized.
In contrast to Lesley Brown, fertility preservation patients can now cryopreserve, or freeze, their embryos for transfer after cancer remission. As many cancer patients cannot delay treatment, the Oncofertility Consortium developed ovarian tissue cryopreservation (OTC) to help women preserve their fertility without a delay in chemotherapy or radiation. We continue to develop additional fertility preservation techniques so all cancer patients are able to have children after cancer. We hope that these efforts will someday have the impact for cancer survivors that Dr. Edwards' research had for infertile women.