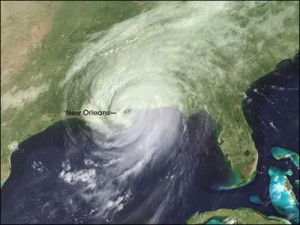 During the summer of 2005, many people were undergoing cancer treatments in New Orleans, Louisiana. Their whole lives had been turned upside down by cancer and they were completely focused on fighting their disease.  That all changed when Hurricane Katrina struck the Gulf Coast in late August.
The hurricane and its aftermath changed the landscape of the entire city of New Orleans, including the healthcare system. Short-term effects included flooding and a loss of electricity to medical centers and clinics while the long-term ramifications of the storm are still being felt. Almost immediately, the state of Louisiana permanently closed Charity Hospital, which cared for most of the city's uninsured and underinsured residents. Many residents moved away after the storm, including healthcare professionals. At Tulane Medical Center, only 140 out of 617 primary care physicians returned. The healthcare professionals that did return to New Orleans were tasked with caring for a changed population and simultaneously rebuilding their medical system.
The director of the Tulane Cancer Center, Timothy Pearman, PhD, recently discussed the rebuilding process in a presentation at the Robert H. Lurie Comprehensive Cancer Center in Chicago, IL. The center's patient navigator was first tasked with finding previously diagnosed cancer patients whose treatments had been disrupted by the hurricane, which was difficult given that many people were displaced from their homes and phone lines did not work. One patient who re-started her treatments after a two-month hiatus explained her absence saying, "Cancer is not my biggest problem."
The center's patient navigator also used the rebuilding period to increase services for patients. For example, cancer screenings were incorporated into standard care practices throughout the hospital. In addition, all newly diagnosed patients were given an orientation from the patient navigator, a patient care journal, and invited to attend new support groups. To care for the new population of uninsured and underinsured patients, healthcare support staff also learned how to enroll patients in Medicaid and Medicare. Through these activities, the dedicated medical staff converted one of the worst natural disasters in American history into an opportunity to build a new, better, face of healthcare in New Orleans.
The patient navigator at Tulane Cancer Center was integral to the rebuilding efforts by developing and implementing programs in the post-hurricane city. His role was very different from the Oncofertility Consortium's patient navigator, who walks cancer patients through the options and opportunities for fertility preservation. However, both the patient navigators reduce patients' barriers to care during stressful times.