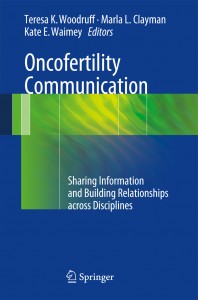 We're jumping back into the chapter reviews of Oncofertility Communication: Sharing Information and Building Relationships across Disciplines.  Today, we're reviewing Chapter 8, Communicating Oncofertility to Children: A Developmental Perspective for Teaching Health Messages by Dr. Ellen Wartella, Dr. Alexis Lauricella and Lisa Hurwitz.  Communicating health information as a whole, and especially reproductive health and sexuality, requires an understanding of what is developmentally appropriate for children.
Research has indicated that under the age of 7, children have very little understanding of the sexual function of genitalia, and only a rudimentary understanding of pregnancy occurring in the mother's "stomach".  Moving into middle school, there is more knowledge about terminology but confusion and uncertainty about reproduction and sexual activity. Chapter 8 indicates that this aligns with the American Academy of Pediatrics Committee on Public Education which has shown that the majority of children and adolescents' knowledge about sexuality comes from popular television and movies which rarely provide details about birth control, HIV, or other sexually transmitted diseases.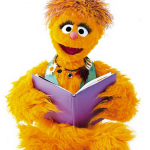 Thankfully, progress is being made to create educational, curriculum-based television programs to address more specific issues relating to health as a whole and reproductive topics: Fizzy's Lunch Lab, a PBS online website, provides an opportunity to teach children about healthy eating and Doc McStuffins, a Disney program about a child who pretends to be a doctor to her stuffed animals.  Beyond general health, Sesame Street co-productions have been successfully implemented to teach young children and families about specific area-related health messages.  For example, in South Africa in 2001, here was a very high rate of HIV infection and considerable stigma associated with the disease.  Takalani Sesame was created and introduced an HIV-positive character, Kami, to teach young children basic health and social information about HIV/AIDS and demonstrated improvement in children's basic knowledge about HIV/AIDS, blood safety, destigmatization and coping with the illness.
Puppets and dolls have also been used to convey medical information to children and adolescents, but video recordings of puppets and dolls are the easiest way to standardize the transmission of educational information that can reach far beyond hospital and medical office walls to reach a wider audience.  Experts are offering suggestions on how to choose and tailor the above techniques depending on the age of targeted children.  Information needs to be simplified using age-appropriate terminology and descriptions and including the use of tactile components if designing interventions for very young children.
Read Chapter 8 of Oncofertility Communication: Sharing Information and Building Relationships across Disciplines and continue reading below for exciting new research being done by authors Wartella and Lauricella.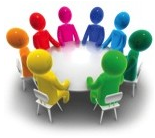 The Oncofertility Consortium prides itself on reaching across medical and educational disciplines to create and support robust and applicable materials for use by both clinicians and the public. As such, the Oncofertility Consortium is excited to announce work being done in The Center on Media and Human Development within the School of Communication at Northwestern University under the direction of Dr. Ellen Wartella.
The Center on Media and Human Development is dedicated to training future researchers to conduct research in the field of human development and media. Dr. Wartella and Dr. Alexis Lauricella are working on a project to help researchers understand what children, and their parents, think about reproductive health.  This will be done through an IRB-approved study asking parents and children to attend at a focus group at Northwestern University.  Learn more about the project, IRB #89306: Children's Understanding of Reproduction Health and Parent's Beliefs About Reproduction Health Education, at the CMHD website.
Please contact Dr. Lauricella at cmhd@northwestern.edu with any questions or concerns.  We look forward to learning about the data gathered during the study focus groups.
To learn about Oncofertility Consortium research projects, feel free to explore the research listings on the Oncofertility Consortium website.