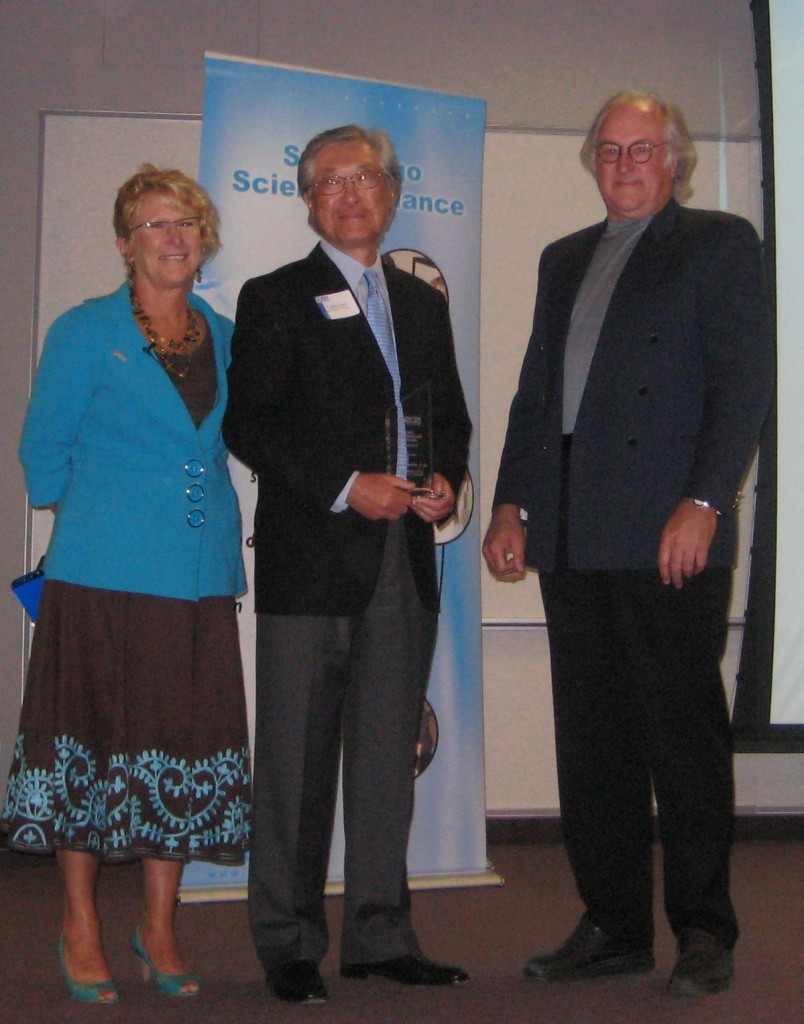 Dr. Jeffrey Chang wins the San Diego Science Alliance Partnership Award at a ceremony on May 21st, 2009. He is accompanied by SDSA Executive Director Nancy Taylor and SDSA Preseident Rick Beach. Photo courtesy of SDSA.
Dr. Jeffrey Chang, the principal investigator of the National Physicians Cooperative, is the winner of the Partnership Award from the San Diego Science Alliance. The award ceremony took place on May 21st in San Diego and honors Dr. Chang's efforts to improve K-12 science education.
Dr. Chang is the Director of the Division of Reproductive Endocrinology at the University of California, San Diego. He was one of the leading physician scientists to identify Oncofertility as a critical issue for young women and he runs the San Diego equivalent of the Oncofertility Saturday Academy — the BE WiSE program.
Twelve young women from 10 different high schools and attending 10th to 12th grade in San Diego County are participating in the BE WiSE program. Their first session will be on reproductive biology and will take place on July 11th.
Teaching Oncofertility at the high school level earned Dr. Chang his trophy from the San Diego Science Alliance and members of the Oncofertility Consortium are proud of his accomplishment and dedication.