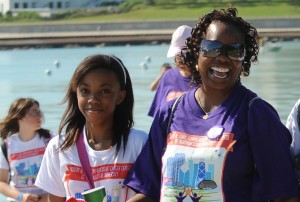 Cancer survivors, their families and friends, and the Northwestern community that supports them
, will come together on National Cancer Survivors Day, June 2nd, to walk and celebrate the 20th anniversary of the Robert H. Lurie Cancer Center's signature event, the Annual Cancer Survivors' Celebration & Walk. The event brings people affected by cancer together in Grant Park to honor cancer survivors and celebrate the strides being made in treatment and research. Come out and join us for this memorable event in Chicago celebrating survivors with a picnic, kids' corner, t-shirts, music, entertainment, the Dedication Wall, and more.
The Walk is about three miles, but registrants can walk any distance they'd like and return to Grant Park whenever they choose to. In fact, you don't even have to walk, you can just come out and enjoy the picnic, entertainment, and help celebrate! In commemoration of its 20th year, the Annual Cancer Survivors' Celebration & Walk has added an optional timed 5K Run along the lake to mark the occasion. The 5K Run is limited to 500 participants, so make sure you get over to registration and secure your spot! Use discount code NURUN and save $15 when you register for the 5K before May 29th!
Donations are not required to take part in this community awareness event honoring cancer survivors; however, contributions to support research and education at the Lurie Cancer Center are optional, and can be made here. Registration is $15 per person in advance and $25 on the day of the Walk, beginning at 7 a.m. There is no charge for children under 2 years old. Registration for the 5K Run is $50 per person, which includes the Walk Fee (see 5K Run page for details).
We hope you'll join us in Grant Park on June 2nd as we celebrate the 20th anniversary of the nation's largest National Cancer Survivors Day celebration with more than 3,500 survivors, families, and friends. See you there!