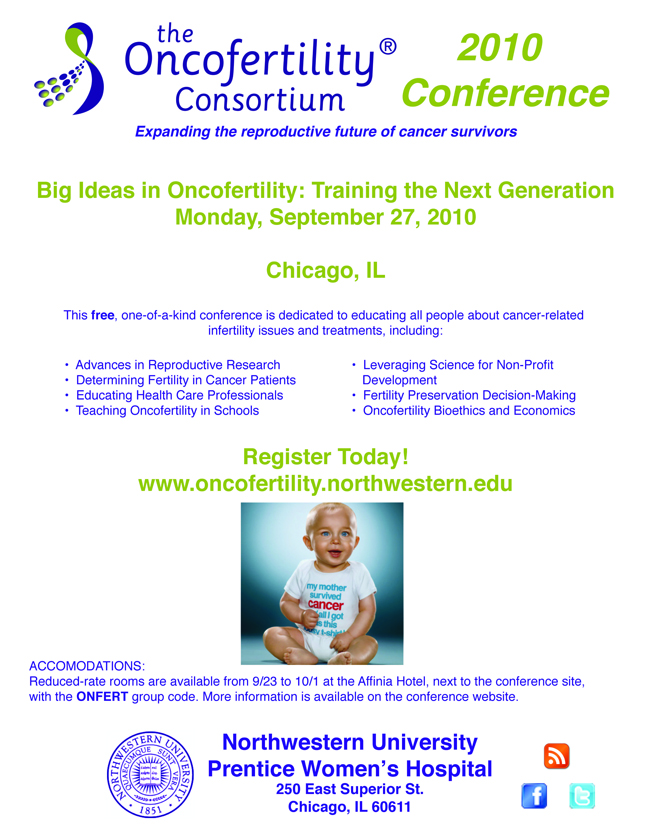 As many of you know, the annual Oncofertility Consortium Conference: Big Ideas and Training the Next Generation is coming up in just a few short weeks. The meeting will highlight recent advances at the intersection of cancer and reproduction. This information will cover a diverse range of topic, from scientific research to strategies on educating the next generation of young people. The conference occurs on Monday, September 27 at the Oncofertility Consortium headquarters in Chicago, IL. This free event is open to all-the public, researchers, and health care providers. Register now!
For those that cannot make it in person to the 2010 Oncofertility Consortium Conference, this year's events will also be available through live web streaming. Starting at 8:50 am (CST), participants can login as a guest through the Northwestern University Adobe Acrobat Connect website (LINK).
A few weeks after the conference, video recordings of the talks will be available on the Oncofertility Consortium website. Presentations from previous conferences are available here.
Come and see the exciting new work in oncofertility in person or online on September 27!