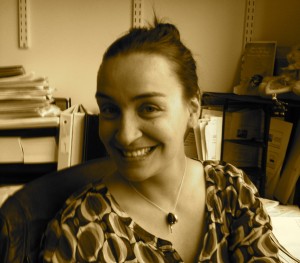 Recently my colleague and office buddy, Nadia Johnson, was featured in the Spring 2012 issue of Inquiry, Northwestern University's School of Education and Social Policy's (SESP) quarterly magazine, in an article entitled, "Higher Education Student Nadia Johnson: Motivating Girls to Study Science." Nadia is the Co-Director for the Women's Health Science Program (WHSP) and a graduate student at Northwestern pursuing a master's degree in SESP's Higher Education Administration and Policy program. Inquiry featured her as a student and Northwestern staff member who is making a difference in the lives of young women through science education.
As the Co-Director for WHSP, Nadia runs the Oncofertility Saturday Academy, along with programs in cardiology, physical science, and infectious diseases. The programs focus on bringing in girls who are under-represented in science and medicine, namely African American and Latina women, for a series of workshops open to high school juniors and seniors.  According to Nadia, " When it comes to teaching science, we must better understand how boys and girls experience the science setting differently and how we can manage this so that girls can get just as far as boys."
This past November, the WHSP program received the prestigious Presidential Award for Excellence in Science, Mathematics and Engineering demonstrating the enormous impact this program has had on young women in science. For Nadia, the formula is simple, "If you excel in something and you have praise, you tend to go down that path," as was the case for her. She also emphasizes the importance of having young women mentored by female scientists and clinicians so they see firsthand, women who are working and excelling in science fields.
Not one to rest on her morals, Nadia is using her graduate research to improve the WHSP program and make the experience not only significant for the high school students, but also for program mentors (health care providers, medical students, faculty, etc…) who also participate.  Regardless of what the data shows, Nadia knows from experience that these kinds of programs, are a win-win for everyone involved.  Read, "Higher Education Student Nadia Johnson: Motivating Girls to Study Science."