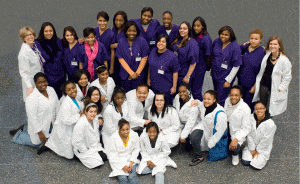 In 2007, the Women's Health Science Program developed a series of classes to give 16 high school students a chance to experience cutting-edge scientific research at Northwestern University. The program, called the Oncofertility Saturday Academy (OSA), is designed to "connect students to what's happening in the real world," says Megan Faurot, the Director of Education Programs for the group.  By 2009, the OSA grew to include 29 juniors and seniors in high school and became the subject of a documentary film entitled "OSA: Sisters in Science." This film follows 6 Chicago public school students as they experience the rare opportunity to enter and perform experiments in a scientific laboratory. These girls carry out techniques from the emerging field of Oncofertility, which benefits young patients who lose their fertility due to cancer treatments. Their inspiring story premiers this Sunday, June 6 on the Big Ten Network.
Watch the trailer here.
While many education programs exist where professionals visit a school to instruct students, Faurot describes that the Oncofertility Saturday Academy decided the "best way to introduce and expose students to science is to bring the students to the university." The Women's Health Science Program, which has educated more than 70 girls to date, also teaches students about careers in science and medicine. Rather than listen to a lecture, students learn about potential careers by interacting with a diverse cast of instructors, including college-level students, research technicians, professors, and medical professionals. The young women in the documentary exit the Oncofertility Saturday Academy with both a greater interest in science and the tools to achieve their dreams.
Big Ten Network, will air the documentary to 55 million households across the nation on the following dates (all times are CT):
Sunday, June 6, 2010 – 6:00 p.m.
Wednesday, June 9, 2010 – 12:00 p.m.
Thursday, June 10, 2010 – 3:00 a.m.
Wednesday, June 30 – 12:00 p.m.