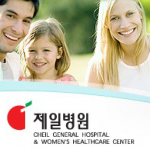 The Oncofertility Consortium is excited to announce another Global Partner: The Cheil General Hospital (CGH) & Women's Healthcare Center in Seoul, Korea!  We had the pleasure of hosting Dr. Chanwoo Park last week at the Oncofertility Consortium offices here in Chicago, IL to discuss Global Partnership and introduce him to Oncofertility Consortium members.  We asked him to write a brief blog about his institution which we've shared below in both English and Korean.  Please join us in welcoming The Cheil General Hospital and Women's Healthcare Center as another Oncofertility Global Partner!
*****************************************************************************
The Cheil General Hospital (CGH) & Women's Healthcare Center was founded in 1963 and became the first medical institution in Korea dedicated specifically to women. For the past 50 years, CGH has been a pioneer in the advancement of women's medicine and has upheld the "patient first" philosophy by providing medical services of the highest quality. CGH currently operates 16 departments and 32 specialized clinics. CGH has established Korea's infertility treatment. In fact, CGH features one of the highest success rates in in vitro fertilization (IVF) and embryo, oocyte freezing. CGH was the first private hospital to successfully use IVF with frozen embryos in Asia. Currently, 4,500 eggs and embryos are frozen each year at CGH. Further, the relative success rate of IVF with previously frozen embryos is much higher at CGH than at the Society for Assisted Reproductive Technology (SART). In addition to treating cancer, the Women Cancer Center of CGH extends fertility preservation resources to all their patients.
제일병원 미래맘 가임보존센터는 가임보존을 위한 체계적인 의료를 제공합니다.
아시아 최초 동결배아이식 성공이라는 역사를 바탕으로 꾸준히 연구한 결과 동결란 분야에서 세계적인 성공률을 얻고있습니다. 난자와 배아의 발달에 따른 최적의 동결보존 방법을 사용하고 있으며 융해시 90% 이상의 생존율을 나타내고 있습니다. 현재 매년 4500여 개의 난자와 배아를 동결하고 있으며, 동결란 이식주기 성공율은 SART에서 보고하고 있는 자료보다 높은 결과를 보여주고 있습니다. 다양한 동결기기와 최고의 의료진과 연구진의  지속적인 노력과 연구를 통하여 성공적인 임신에 최선을 다하고 있습니다.
*****************************************************************************
We thank Dr. Park for his visit and welcome him and The Cheil General Hospital & Women's Healthcare Center to the Oncofertility Consortium.  Special thanks goes to Woodruff Lab member, So-Youn Kim, PhD, for facilitating his visit.  Review our Oncofertility Consortium Global Partner webpages and learn more about our wide-reaching collaborators.