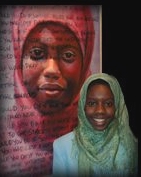 Back in February, we blogged about one of our sister programs for the Oncofertility Saturday Academy (OSA) called, the Pennsylvania Academy for Reproductive Sciences otherwise known as the PARS program. Similar to OSA, the PARS program was started to teach high school girls about the research, clinical care and bioethics of fertility and cancer.  The PARS program was so successful that one of their former students, Emtithal Mahmoud, won the Pennsylvania state-wide science fair for her oncofertility research.  We contacted Emtithal (Emi) to learn more about her experience with the PARS program and below is what she had to say:
Q: Why did you initially apply to participate in PARS?
A: I have been interested in biology and all things related since seventh grade. I just love learning about life and its many mechanisms. Also, since I want to become an MD/PhD, I thought this would be a perfect opportunity to broaden my knowledge. After all, you can only learn so much in school.
Q: What did you learn from PARS? Do you think it's a good opportunity for young women? Why?
A: I learned the fundamentals of the female reproductive system. Additionally, I was introduced to some pressing modern issues and learned how the material PARS covered could be applied to solve them. Lastly, I got a glimpse of the teamwork it takes to move the field forward. I think this is a wonderful opportunity for young women because the experience it provides is useful both academically and in every day life.
Q: Why did you decide to do a research project with us?
A: The experience I had with PARS was so wonderful that I found myself completely fascinated by the topic of reproduction. I decided to continue working with PARS in the hopes of prolonging the experience by using what I learned along with new information to go more in depth.
Q:  How did you decide on your research topic? How did you conduct the research? What did you find?
A: After learning about oncofertility at PARS and the negative effect of chemo on fertility, I really wanted to know more so I spoke with several PARS professors and some more research. I decided to research the effects of environmentally relevant doses of arsenic on the early stages of the reproductive system (follicular development, oocyte maturation, and early embryo development to the blastocyst stage). I conducted my research by doing an invitro study using a mouse model. I found that exposure at the levels I tested severely compromise follicular development and the nuclear competency of the oocyte. I also found that these doses arrest embryonic development to the blastocyst stage in a dose response fashion.
Q:  What happened with the science fair? What were your results?
A: I won second place in the local fair and first place in the regional fair.
Q: Did you feel adequately prepared to compete in the science fair based on your research efforts with our team?
A: Definitely!
Q:  What advice would you give to young women looking to become involved in science either in college or as a career?
A: Begin by seeking opportunities like these to broaden your knowledge and explore the different career options. If you are interested, learn more by asking professionals to clarify anything you don't understand. Also, doing a research project is a fantastic way to enhance your learning experience.
It's important to note that the success of the Oncofertility Academy is due in large part to the amazing teachers who work with these young women. One teacher in particular, Ericka Senegar-Mitchell, PhD runs an Oncofertility Academy called Be Wise in San Diego in affliation with UCSD. Among her many accomplishments, Dr. Senegar-Mitchell was recently named as a finalist for the California Teacher of the Year. We're so proud to have such a prolific group of people committed to the field of oncofertility!