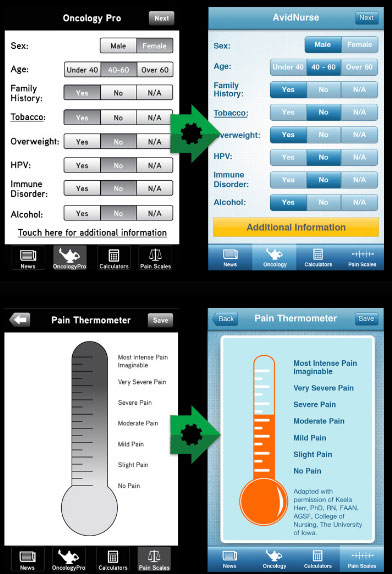 In today's world, more and more professionals are relying on smartphone technology as part of their daily lives. Healthcare providers are no exception, with apps being designed in lieu of cumbersome pocket-guides to meet their diagnostic and medical information needs. In oncology, access to the most recent information and tools available at the point-of-care is critical for both providers and patients in the fight against cancer.
In April 2011, the Nurse Oncology Education Program (NOEP) a non-profit project of the Cancer Prevention and Research Institute of Texas launched their first iPhone app called AvidNurse. AvidNurse includes a quick-reference guide to cancer screening recommendations, BMI conversions, pain scales, and medication calculators. Nurses in all fields of practice can provide personalized and in-depth medical information about a patient's risks for breast, prostate, colorectal, and lung cancers. NOEP Director Joni Watson, MSN, RN, OCN says, "As trusted and respected healthcare professionals, nurses can be confident sharing information via AvidNurse on tobacco cessation, cancer prevention, detection, treatment, and pain management."
Along with AvidNurse, smartphone apps including iSaveFertility, a free mobile resource for health care providers and their patients to help navigate fertility preservation, are helping to change the face of cancer care. Providers rely on the apps to give them the most up-to-date healthcare information which in turn benefits the patient by ensuring they are well-informed and in control of their cancer treatment.
To download AvidNurse for $3.99, please visit the iTunes store. To learn more about iSaveFertility, visit SaveMyFertility.org and download the free app.