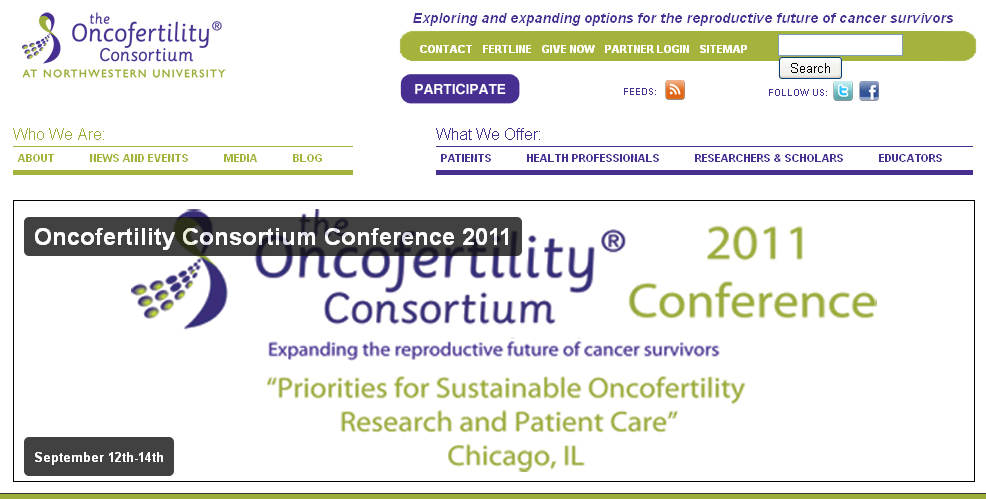 The past few weeks have been busy ones here at the Oncofertility Consortium. We have been in the midst of preparing for the fifth annual conference to investigate advances in cancer and fertility, which begins tomorrow morning (Monday, September 12th, 2011). It is hard to believe that it has already been five years since this interdisciplinary group of people came together and to celebrate, we are putting on a great event with more than 150 registered attendees and many more virtual participants.
The conference begins tomorrow at 8:30 am (CST) with an introduction by Teresa K. Woodruff, PhD and followed by presentations on fertility preservation in the non-human primate, oncofertility resources at cancer centers, advances in cryropreservation, humanist and social science perspectives on cancer and fertility, and many more. Monday's virtual events will conclude with a keynote address by Laurie Zoloth, PhD on "Ethical Questions after Five Years of Oncofertility Research."
Tuesday will include discussions on human follicle culture, a panel discussion on insurance coverage for fertility preservation, case studies in oncofertility, and a series of discussions on education for high school students and clinicians. Throughout both days, attendees will have the chance to participate in breakout discussions on the future of different aspects of oncofertility from Basic Science to Information Technology. At noon (CST) on Tuesday, leaders from each session will address the larger group to discuss the future goals for the groups.
These cumulative events will not only allow members of the Oncofertility Consortium to reflect on the great strides of the group over the past years but it will set the stage for the next five. We hope you can join us there or follow us on Twitter (#oncofert11).
_________________
Can't Attend the Oncofertility Consortium® Conference in Person?
Join the live webcast!
NOTE: test the computer you plan to use the day of the conference for compatibility by visiting:http://nwuniversity.na3.acrobat.com/common/help/en/support/meeting_test.htm
On the day of the conference, login to participate beginning at 8 AM Central Time by visiting: http://nwuniversity.na3.acrobat.com/oncofertility.
Login as a guest (you will not be given a login)
When asked for your name, please try to include your institution (for example: YourName@Northwestern) so we can identify you if you ask a question!
For technical assistance, please contact the NUIT A&RT Production team at production@northwestern.edu
(NOTE: Technical support is not available during the presentation)