I'm a newcomer to Twitter, never having caught on to the Twitter craze that has become so popular among groups and individuals, young and old.  In working with oncofertility@twitter, I must admit that I am really enjoying learning how Twitter works, and most importantly, learning from members of the Twitter community.  Who knew that so much could be shared in 140 characters or less?
The Oncofertility Consortium joins a large group of cancer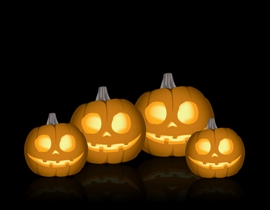 and fertility support organizations on Twitter to raise awareness about cancer issues, ranging from prevention to survivorship.  The exchange of ideas and information through daily and even hourly tweets allows this active community to continually grow and gain a stronger voice. Oncofertility@twitter works to put fertility preservation at the forefront of cancer care by providing resources, giving updates, and sharing expertise on how to handle fertility-threatening diseases or treatments.  Each tweet is a teachable moment that informs patients and their families about the opportunity to secure biological parenthood after cancer.  Currently, there are 64 followers of oncofertility@twitter – follow us today and bring us closer to our goal of 100 followers by Thanksgiving!
Have a safe and healthy Halloween!
PS: Also follow us on facebook!