Dr. Clarisa Gracia, an assistant professor in the Department of Obstetrics and Gynecology at the University of Pennsylvania School of Medicine, was recently pictured on the cover of Philadelphia Magazine and listed as one of the top doctors under 40 in Philadelphia, thanks to her work in Oncofertility. See her slide on the magazine's Web site here.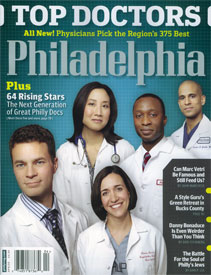 Dr. Clarisa Gracia, featured on the cover (lower-center) of the magazine, was voted one of the top doctors under 40 in the area for her work in Oncofertility.
Dr. Gracia's primary area of interest is in Oncofertility and reproductive aging. She has a clinical practice that focuses on Oncofertility. She sees cancer patients from the newly diagnosed to the survivors and counsels them on fertility preservation. She also gives her patients treatment for long-term reproductive and endocrine complications that are associated with cancer treatments.
Dr. Gracia is involved in several research projects, including investigations into the effects that cancer therapies have on reproduction, new ways of preserving fertility in cancer patients and the way different hormones change during the stages leading to menopause. 
Dr. Gracia said she was also interviewed by CN8 with one of her breast cancer patients during last year's Cancer Week and that Star Magazine interviewed her about Christina Applegate's breast cancer diagnosis. She also said she was featured in Cure Magazine in which she talked about the legal issues surrounding Oncofertility.