LAB COURSE: INVESTIGATIONAL TECHNIQUES
Our lab courses provide high-quality translational research training for students, postdoctoral fellows, and other trainees with the opportunity to isolate ovarian follicles, encapsulate follicles in a 3D biomaterial matrix, and optimize in vitro follicle culture. The curriculum has become the template for a folliculogenesis and in vitro follicle growth laboratory that is taught annually at the Frontiers in Reproduction (FIR) at the Marine Biological Laboratory in Woods Hole, MA. Since 2011, more than 35 researchers and clinicians have gained hands-on experience from this course.
Lab Course: Investigational Techniques in Fertility Preservation (TRAINING SESSION FULL, email oncofertility@northwestern.edu if you wish to be placed on the waitlist)
The training includes the following: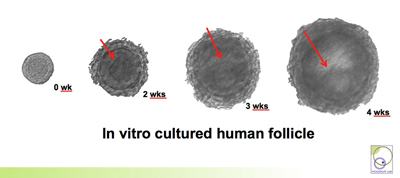 Welcome & Overview
Ovarian and Testicular Tissue Cryopreservation and Processing
In Vitro Follicle Growth
In Vitro Maturation
To view an online video of the dissection of a whole ovary in preparation for cryopreservation, click here.
Lab courses are held each year at Northwestern University in Chicago, IL. This lab course is held annually in conjunction with the Oncofertility Conference in Chicago, Illinois.
The registration fee is determined each year and covers supplies, lab materials, and lunch for attendees.
Sign up for more information.