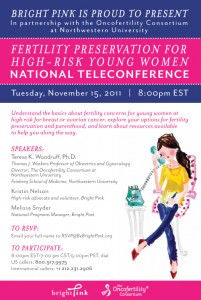 Earlier this year, I blogged about a young woman and volunteer with Bright Pink, Kristin Nelson, who had preventative ovarian removal after she tested positive for BRCA1. BRCA1 and BRCA2 genes are a class of genes otherwise known as tumor suppressors, and a mutation of these genes has been linked to a significantly increased risk for the development of breast and ovarian cancer at an early age. Kristin had enough of a family history of breast and ovarian cancer to want to take measures to protect herself should she develop cancer as well. Knowing this would impact her fertility, she decided to bank eggs and embryos prior to her oophorectomy.
Luckily, Kristin knew enough about her fertility risks with BRCA1 to pursue fertility preservation prior to her surgery, but not everyone has the same experience. In an attempt to raise awareness and education about fertility preservation in high-risk young women, Bright Pink has partnered up with the Oncofertility Consortium to present, Fertility Preservation for High-Risk Young Women National Teleconference on November 15th at 8:00EST. The teleconference seeks to help high-risk young women understand the basics of fertility concerns, their options for fertility perseveration and parenthood, and provide valuable resources that are available. Leading the information session will be Oncofertility Consortium Director, Teresa K Woodruff, along with Kristin Nelson and Melissa Synder from Bright Pink. To learn more about how you can participate in this teleconference or to register, please visit www.bebrightpink.org.
Are you a cancer survivor? Help oncofertility researchers study and prevent treatment-induced fertility loss by joining the FIRST online fertility registry for cancer survivors!