Leader of the Brazilian Oncofertility Consortium Wins a Recognized Research Prize in Brazil
Dr. Jhenifer Rodrigues recently was awarded a prestigious prize for her PhD disseration. Below is a blog from Dr. Rodrigues highlighting her success:
By Jhenifer Rodrigues, PhD
The researcher and leader of the Brazilian Oncofertility Consrtium, Dr. Jhenifer Rodrigues, PhD, won an important prize in research in Brazil, the Capes Thesis Award 2015, in recognition of a project developed as her Doctoral thesis in 2014.
The project, developed under the guidance of the professors Dr. Richard L Stouffer, PhD and Dr. Mary Zelinski, PhD from Oregon Health and Science University, USA, and also the professor Dr. Paula Navarro, PhD ( Human Reproduction Division from Ribeirão Preto School of Medicine (FMRP), USP, was funded in part by The Oncofertility Consortium and Fogarty.
The ceremony was held in Brasília, Distrito Federal, Brazil, on December 10th, 2015. Dr. Rodrigues received a certificate, an engraved medal and a post-doctoral fellowship as awards of this recognition.
Besides the prize, the research was mentioned and commented on several portals and websites, and quoted in an interview for Dr. Jhenifer on USP radio FM 107.9 on January 22th, 2016.
The news reports on advances in Assisted Reproductive Technology which can make closer the reality of patients become pregnant after cancer treatment. The potential use of follicle in vitro maturation rule out the possibility of cancer recurrence when ovarian tissue thawing and transplantation are performed, especially in the case of an ovarian cancer. Once established the in vitro follicular maturation technique, the results would be potentially better than transplantation of the tissue.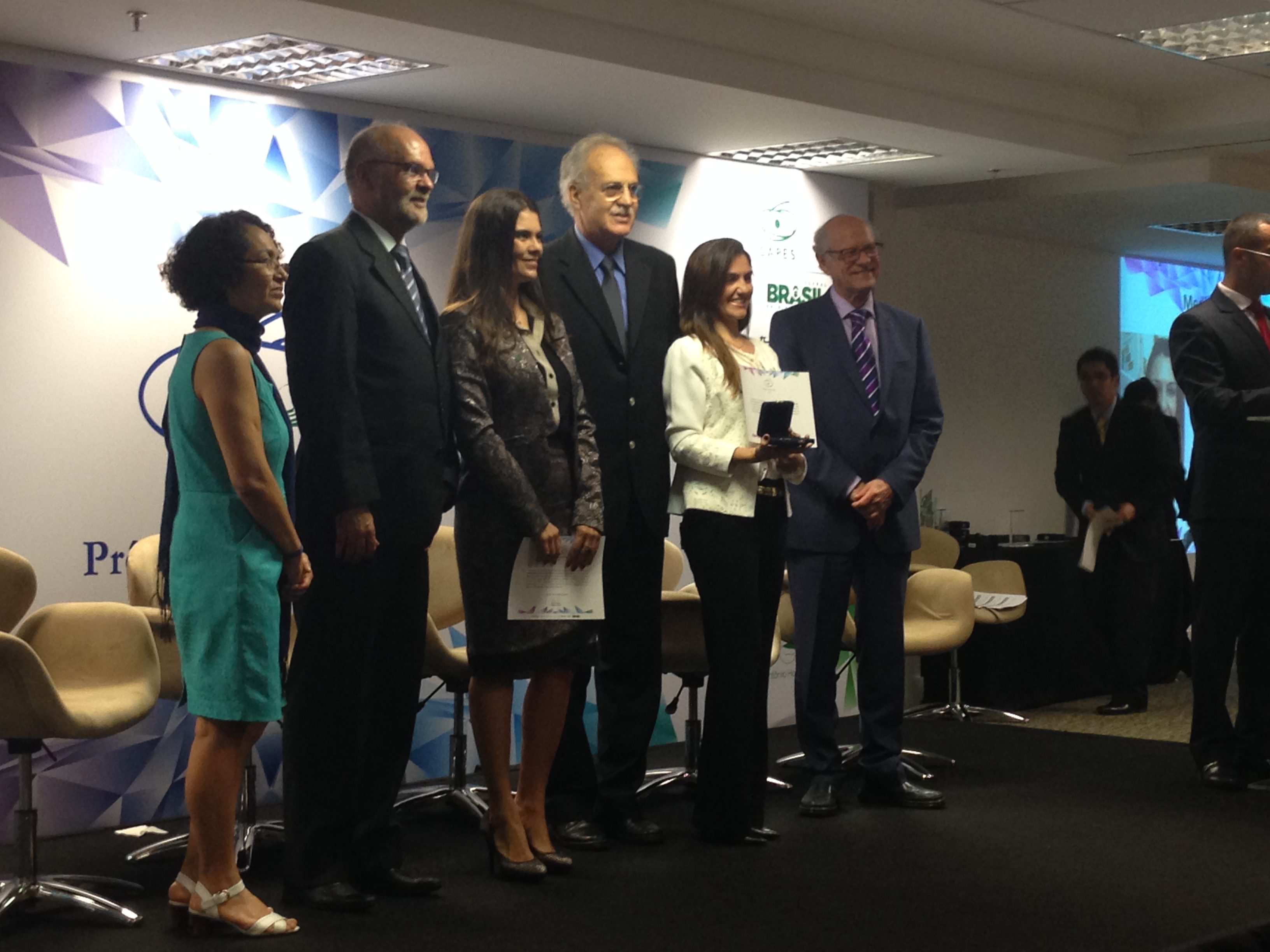 Positive responses which have been shown in others mammals species and in studies with non-human primates from this same group, also came from this project developed by Dr. Rodrigues.
The study had as main objective to evaluate the effects of ablation of steroid production and the role of androgens (testosterone and dehydrotestosterone) in the development of secondary follicles of non-human primates (rhesus monkeys – Macaca mulatta) isolated from fresh ovarian tissue and cultivated for 5 weeks in 3D alginate matrix.
This in vitro study showed evidence of the essential role of androgens in the early follicular phase in primates, reinforcing the existence of molecular links that regulate the activity of ARs and androgenic activity and possible new interactions between androgens with other steroid hormones. The findings clearly demonstrated that testosterone and dihidrotestosterone can restore the survival, growth, antrum formation, the hormone production and oocyte viability of preantral follicles cultured in vitro in a 3D alginate matrix exposed to ablation steroid production.
It was published on the Human Reproduction Journal in 2015 (Rodrigues JK, Navarro PA, Zelinski MB, Stouffer RL, Xu J. Direct actions of androgens on the survival, growth and secretion of steroids and anti-Müllerian hormone by individual macaque follicles during three-dimensional culture. Hum Reprod. 2015 Mar;30(3):664-74. doi: 10.1093/humrep/deu335. Epub 2015 Jan 6).
The new knowledge that can be obtained by this type of study can help in understanding the dynamics of follicular development process that is still poorly understood and to contribute to the improvement of this in vitro technique that can be used as an alternative for young cancer patients wish to preserve their fertility.
Links of the News:
Agência USP de Notícias, in January 21th, 2016
Portal USP de Notícias, in January 20th, 2016
Portal FMRP/USP de Notícias, in January 15th, 2016
To learn more about the work of the Brazilian Oncofertility Consortium, including materials in native language Portuguese, click here.