Childhood Reproductive Education
Gaining an understanding of biology and reproductive health at an early age is integral to teaching young people about their own bodies and health for the rest of their lives. In addition, realizing that scientific knowledge is attainable and fun is necessary to instill the passion for science that will inspire the next generation of scientists and medical professionals. These young people may also be tomorrow's well-informed patients, who will be capable of navigating complex decision-making regarding reproductive health risks and outcomes.
The Education Core of the Center for Reproductive Health After Disease is working to educate children and young people about their reproductive health and anatomy. The team consists of Dr. Teresa Woodruff, an expert in reproduction, and two other collaborators, Dr. Ellen Wartella and Eric Patrick, MFA, both faculty members of the School of Communications at Northwestern University. Together this interdisciplinary team will develop scientific curriculum for a younger audience (ages 5-13) and turn that curriculum in to a series of three animations and songs to make the materials accessible to the younger audience. The project will include a needs assessment and focus group to help develop curriculum.
Here is the team's approach:
Focus Group and Curriculum Development
During the first year of the grant, Ellen Wartella,PhD, an expert in examining the impact of media on children's development, developed the curriculum content for each video after consultation with Center researchers and educators who teach science to these age groups. Dr. Wartella and her team hosted a focus group to learn more about the attitudes of young children and their parents towards reproductive health. The results of this focus group was used to help with curriculum development. The curriculum was developed and tested as part of an upper division/graduate course on Children and Media at Northwestern University. The curriculum content was evaluated and then pretested with children of the target age groups to ensure their comprehension of the content, as well as their interest in and likability of the animated characters, as this has been correlated with learning from videos.
Song and Animation Development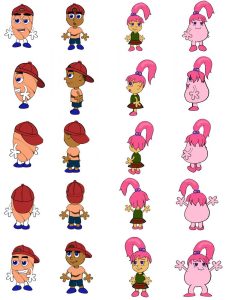 Eric Patrick, MFA, who is assistant professor in the Department of Radio, Television, and Film, a Guggenheim fellow, and an award winning film producer, joined Dr. Wartella in this project and in the second year of the grant, has started the animation and videos with students in the Department of Radio-TV-Film at NU. Prof. Patrick was an animator for the Emmy nominated Nickelodeon program Blues Clues and brings enthusiasm and a wealth of experience to this project. Prof. Patrick has continued to work with Prof. Wartella in developing storyboards for pretesting. Based on the findings from pretesting, he is working on editing and producing final versions of the three videos. The three videos cover the topics of puberty, male/female anatomy, and the menstrual cycle and fertilization. In addition to the animations, the videos will include three songs covering the topics. The songs are being written and composed by Bob Charde, who has years of experience in creating albums for kids and has been awarded a Parent's Choice Award for his work. A mockup of the characters, Timmy and Olivia, are on the right.
This research is funded by the National Institutes of Health, Grant UP50HD076188.