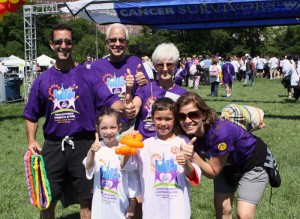 On June 5th, the 18th Annual Cancer Survivors Celebration & Walk is taking place in Chicago, IL, at Grant Park. This leisurely, non-competitive 4 mile walk is a family-focused, community awareness event dedicated to bringing together cancer survivors, friends and family, and all those who have been touched by cancer.  It's an event to honor cancer survivors with food, entertainment, and an opportunity to sign the Dedication Wall – a 25ft x 50ft white wall with markers at the base of it allowing people to write messages to the cancer community (a message to loved ones lost, encouragement to participants in the walk, thanks to a doctor who has helped them, etc…).
Jennifer Bowker, Manager of Communications at the Lurie Comprehensive Cancer Center, and one of the organizer's for this year's Walk, spoke with me in detail about the upcoming event. "We hold the walk in conjunction with National Cancer Survivor's Day and the definition of a 'cancer survivor' is from the moment of diagnosis, through the rest of your life, you're a cancer survivor." Ms. Bowker said that this is her favorite event because it brings people in the cancer community together and embodies a spirit of positivity and camaraderie. It's also the largest event of its kind nationally, with 4,000 people expected to participate.
As participants progress along the walk route, they will pass a series of posters called The Faces of Cancer.  Each poster houses a picture of a cancer survivor and a brief quote from them.  It inspires those walking and encourages others in their fight against the disease. One of those Faces taking part this year is Jenna Benn.  She is a 29 year old Gray Zone Lymphoma survivor, who preserved her fertility prior to beginning her cancer treatment.  She is currently undergoing her 6th and final round of chemotherapy and is looking forward to participating in the Walk on June 5th. You can see a touching video about Jenna's experience as a cancer survivor here or visit her blog, Kill it in the Butt! and read about how she made the decision to bank her eggs before starting chemotherapy.
The 18th Annual Cancer Survivor's Celebration & Walk is a time to celebrate cancer survivors. It's a time to honor those who are currently fighting the disease, those who are in remission and those we have lost to cancer. To register or for more information, visit the 18th Annual Cancer Survivor's Celebration & Walk. This is not a fundraising event nor are participants required to walk the entire 4 mile course.  If you register for the walk online by June 3rd, it only costs $15, but there is registration on the day of the event costing $25.  Please come out and show your support for this amazing event!