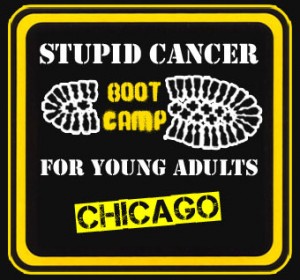 One of my favorite things about working in the cancer community is meeting young adult cancer survivors. I have never met such an energetic group of people who deal with a life-threatening disease, beat that disease, and are committed to preventing other people from going through similar suffering. For those of you who have ever met Jonny Imerman or been to the Lurie Cancer Survivors' Walk, you know what I mean.
I am proud to say that this summer, the Oncofertility Consortium will have the chance to participate in one such event with young cancer survivors, their caregivers, and providers. On June 23, the I'm Too Young for This! Cancer Foundation will hold their first-ever Stupid Cancer Boot Camp in Chicago, IL. The event will include a keynote talk by the Consortium's own Oncofertility Patient Navigator, Kristin Smith, who will describe her experiences guiding young patients through fertility discussions before and during cancer treatment. She will also talk about the many reproductive options for survivors who did not preserve their fertility prior to cancer treatment.
The Boot Camp will include a panel of survivors to convey their own insights into life after cancer. These exciting athletes and professionals will discuss everything from health and wellness to dating and relationships.  And like all other young people, survivors need their own dose of fun so the evening event will also include quite a bit of "networking" in the club-like atmosphere below Hub 51 in Chicago's River North neighborhood. Join hosts Matthew Zachary , Jonny Imerman, and the large number of community partners, to get educated and empowered about Oncofertility and Survivorship on Thursday, June 23 at 6:30 pm at Sub51 (51 West Hubbard Street) in Chicago IL. Register today!