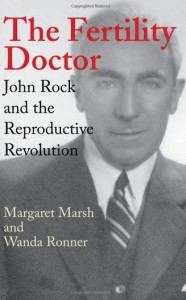 The Oncofertility Consortium at Northwestern University is officially closed today due to a record-breaking blizzard in Chicago. The snow day gave me an opportunity to read a chapter in Malcolm Gladwell's book What the Dog Saw about John Rock, MD, an American doctor and scientist who was integral to many of the advances fertility medicine has seen in recent generations.
From the 1920's through the 1960's, John Rock worked as an obstetrician and gynecologist in Massachusetts. As a clinician, Rock saw many patients and couples dealing with infertility. These cases motivated the Harvard-trained doctor to research possible treatments for infertility, some of which are now used to preserve the fertility of young cancer patients.
In the 1940's, Rock worked with Miriam Menkin to attempt in vitro fertilization with human eggs, or oocytes. In 1944, they published their work in the journal Science. In those experiments, Menkin and Rock described their efforts to fertilize 138 oocytes with sperm and, in three cases, recorded changes in the oocytes that appeared to be post-fertilization cell division. Since, the team never attempted to implant the presumed embryos in a woman, it is not known if the eggs were actually fertilized and viable. Despite this uncertainty, the work that Rock and other scientists performed in these early years was integral to the birth of Louise Brown, the first child born from in vitro fertilization, in 1978.
John Rock also researched techniques now used to preserve the fertility of male cancer patients. In the 1950's, he worked to perfect sperm banking, which requires freezing and then thawing a sperm sample without damaging the motility or mobility of the sperm. Again, Rock was ahead of his time and successful sperm cryopreservation methods were not developed until the 1970's.
Dr. Rock may be most well-known for his true scientific passion, birth control. A devout Catholic, Rock first became involved in the contraceptive movement during the 1930's when he founded a birth control clinic that taught the rhythm method, a church-sanctioned technique that calculates a woman's reproductive cycle and limits sex between a couple to the infertile period of the cycle. Rock also collaborated with researchers who developed the first hormonal birth control pill and was convinced that this technique, like the rhythm method, was a natural form of contraception and would also be approved by the Catholic church. Needless to say, that did not happen.
Next Thursday, February 10, the Oncofertility Consortium will host Margaret Marsh, PhD, and Wonda Ronner, MD, as they discuss their research on John Rock in a Virtual Grand Rounds at 10 am CST. Join the discussion here through Adobe Connect .