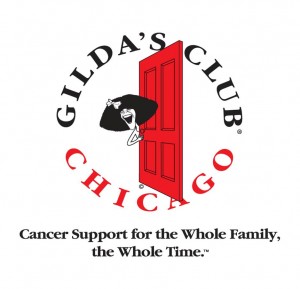 Cancer is a disease that touches many people's lives both directly and indirectly thereby creating a need for community based cancer support organizations. One such organization, Gilda's Club, opened their signature Red Door in 1995 and since then, has been fostering a community of free support for men, women and children living with cancer as well as their caregivers and friends. What sets Gilda's Club apart from other organizations is their unique ability to recognize and respond to the needs of the local cancer community through innovative programming.  Gilda's Club Chicago was initially focused on bringing the cancer community together in their home-like clubhouse in the River North neighborhood, but within the last two years, the organization expanded their program to Chicago hospitals, creating their own unique niche in cancer care.
Gilda's Club Chicago's hospital initiative began out of need to bring cancer support services to individuals who might not be able to easily access the clubhouse.  This original program provides networking, support groups, workshops, education and social activities for patients, survivors, caregivers and friends at several local hospitals.  Outreach Coordinator, Amy Coleman said that the main goal of the hospital initiative was to continue "creating community by bringing people together."  Currently the program at the Lurie Cancer Center has approximately 20 hours of programming which include yoga classes, T'ai Chi, arts and crafts as well as networking groups on such topics as "Parenting with Cancer," and "Starting a Family After Cancer." Coleman also said that in the next few months, they're hoping to increase their presence at Lurie.
Another great benefit of the hospital initiative is the convenience it provides to patients, caregivers and friends. Oftentimes patients find their way into the programs offered through Gilda's Club while they are waiting for their appointment. According to Amy, "you'll often find patients in here with their buzzers participating in a session while they are waiting to be called in by the doctor." Parents undergoing cancer treatment can also bring their children to some of the workshops which provide a great alternative to sitting in the waiting room as well as one less thing a parent has to be concerned about in an already strenuous time.
To find out more about what Gilda's Club Chicago has to offer, including programs and events for young adults with cancer, please visit the website at www.gildasclubchicago.org. Their hospital programming can currently be found at:
Robert H. Lurie Comprehensive Cancer Center of Northwestern University
Advocate Illinois Masonic Medical Center
Children's Memorial
John H. Stroger Hospital of Cook County
University of Illinois Medical Center