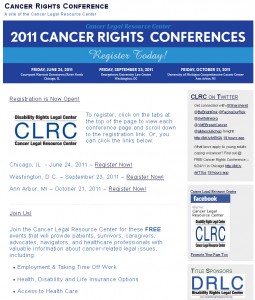 A cancer diagnosis often carries a number of legal issues, including insurance coverage, employment and taking time off work, access to health care and government benefits, etc… These legal issues can have a serious affect on an individual's already compromised health causing stress and confusion, which can be overwhelming. When these legal issues are not addressed, people may find that although they have gotten through treatment, they are left in financial and emotional crisis.
On June 24th, the Oncofertility Consortium is partnering with the Cancer Legal Resource Center (CLRC) to kick off the 2011 Cancer Rights Conferences, the first being held in Chicago, IL. CLRC is the host and organizer for this free conference series with additional events being held in Washington DC on September 23rd and Ann Arbor, Michigan on October 21st. CLRC is a national program developed in 1997 by both the Disability Rights Legal Center and the Loyola Law School Los Angeles to provide free information and resources on cancer-related legal issues to cancer survivors, caregivers, health care professionals, employers, and others coping with cancer.
The 2011 Cancer Rights Conference in Chicago will provide patients, survivors, and the health care community with important information pertaining to cancer-related legal issues.  Cancer-related legal issues range from employment and disability concerns to life insurance options and education rights of children and young adults with cancer.  Over 200 people are expected to attend the Chicago Conference and registration is still open so sign up for this free event to learn more about your rights and receive free legal advice.
If you are unable to attend this conference series, CLRC also offers individuals struggling with cancer-related legal issues a national, toll-free telephone assistance line (866-THE-CLRC) where callers can receive free and confidential information about relevant laws and resources for their particular situation. Members of CLRC's professional network are comprised of attorneys, insurance agents, and accountants able to answer a variety of legal concerns.