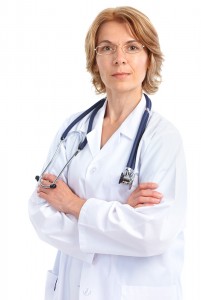 Last Thursday, members of the Oncofertility Consortium had the pleasure of attending a presentation by Karrie Ann Snyder, PhD, a lead research scientist in the Oncofertility Consortium who studies the way patients communicate information with their providers and what they perceive the provider is telling them.
In a recent study, Dr. Snyder asked what young female breast cancer survivors recalled about fertility preservation discussions and decisions. The patient group was collected from across the United States and were not a part of the Oncofertility Consortium.
Dr. Snyder used two different analyses to trace women's experience from diagnosis to the beginning of treatment and examined how they learned about, or if they did, fertility preservation and how they made fertility preservation decisions. She wanted to see who was or wasn't learning about fertility preservation options and what factors seem to shape that process.  She found that there are many ways that the patient-physician dialogue can be improved to provide better fertility preservation information.  Importantly, and perhaps not surprisingly, her work highlighted the central role that the oncologists played in decisions about all health matters during the time of her cancer treatment.  In her talk, Dr. Snyder stated that, "Oncologists are the gatekeepers to fertility preservation," for young cancer patients. So oncologists are a critical part of the equation in providing accurate and timely information about the fertility threat of cancer treatment and referring their patients to an oncofertility specialist. The National Fertility Hotline at 866-708-FERT (3378) is a good way for oncologists to get the help they need for their patients in a rapid and timely manner.
Dr. Snyder's work will continue to explore how patient-provider interactions can be improved.  We will highlight forthcoming papers from her work to keep the community up to date on this important topic.