Today, we're excited to introduce a new blog series streaming live from the 9th annual Oncofertility Conference, Critical Conversations in Oncofertility: Pediatrics and Beyond, which focuses on pediatric oncofertility and is attended by physicians and scientists from all over the globe.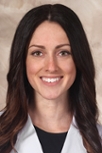 First a quick introduction from me, Leah Bressler, an Obstetrics & Gynecology resident at Northwestern. I look forward to combining experiences in research and synthesizing current medical literature as managing editor for 2 minute medicine to share lessons learned at this year's meeting. I'll be bringing you key information from speaker presentations, break-out sessions and posters as we go.
See you at the Conference!
Leah Bressler, MD, MPH