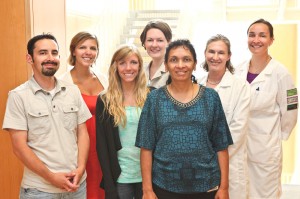 Summer Teacher Fellowship Team (L-R): Mark Prosise (Curriculum Developer), Amy Elliott, Kari Bodine, Miranda Bernhardt (Lab Coordinator), Sowmya Anjur, Kristen Perkins (Curriculum Coordinator), Nadia Reynolds (Fellowship Coordinator); not pictured: Qurrat Waheed. Photo by Eugene Galdones.
By Nadia Reynolds – The Oncofertility Summer Research Fellowship (OSRF), a program that brings science teachers and college undergraduates into the Woodruff Lab, was initiated in 2009 with the support of a two-year American Recovery & Reinvestment Act grant.  For the past three years, high school biology teachers and Oncofertility Saturday Academy (OSA) alumnae have been hired to work in the Woodruff Lab over the summer, through the OSRF program.  Two teachers and two OSA alumnae participated in 2009, and five teachers and three OSA alumnae participated in 2010.
This year, OSRF was supported by the main Oncofertility Consortium grant, and four teachers were selected to participate in the program.  The teacher fellows included: Sowmya Anjur, a veteran teacher for Illinois Math & Science Academy, Qurrat Waheed, a new teacher at Westinghouse College Prep, and Kari Bodine and Amy Elliott, both teachers at Lakes Community High School.  The teacher fellows learned about the science behind fertility preservation, the bioethical issues surrounding the field of oncofertility, and participated in the development of new high school science lab modules called the Northwestern University Biology Investigations in Oncofertility, or NUBIO.
NUBIO includes a set of labs that were developed via a collaboration between local high school teachers and researchers in the Woodruff Lab in an attempt to teach students basic biology skills and advanced biotechnology techniques through the context of cancer, reproductive science, and oncofertility.  The teacher fellows expanded upon the already developed NUBIO labs as individual summer projects, which included new units on cancer, bioethics, and patient case studies.
OSRF was a huge success this year, and we wish all of our teacher fellows the best as they return to their schools in the fall to pilot NUBIO!  And next week we welcome the OSA alumnae student fellows into the lab!