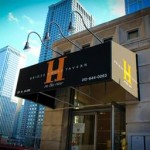 Today, we are honored to have another patient guest blogger; long-term survivor Colleen Cira.  Read through her incredible story below and join the Robert H. Lurie Comprehensive Cancer Center this evening, March 25, from 5-8pm for "Drinks with Docs (& Healthcare Providers)" at Bridge House Tavern in Chicago, IL.  Witness the miraculous transformation of healthcare providers to mixologists!  Enjoy an evening of spirits and conversation while supporting the Adolescent and Young Adult Oncology (AYAO) Program at the Robert H. Lurie Comprehensive Cancer Center of Northwestern University through the evening's tips – so tip generously!
***********************************************************
The Rest is History
By: Colleen Cira
When I was 15 years old and first diagnosed with Hodgkin's Lymphoma, I was no where near thinking about being a parent.  Despite that, I vividly remember being told by my oncologist that having chemotherapy and radiation may make it difficult to have children and I wouldn't know if that was true or not until I started trying.  While I don't remember having a significant emotional reaction to that information at the time, I know that when I approached my decision to have children with my husband just 3 years ago, I carried with me a tremendous amount of skepticism about my ability bear children because I am a cancer survivor.  Fast forward 18 years later and I have the most adorable, curious and sweetest little 19 month old I could ever dream of.  But he didn't come easy.  
Just a few months into "trying" with no results, I knew in my bones that something was wrong and that the standard "wait a year" advice was not going to fly for me because of my history.  Thank God for the STAR program at Northwestern because they immediately put me in touch with Kristin Smith at Northwestern's fertility clinic.  Within a matter of weeks, I learned that chemo and/or radiation had killed off practically all of my eggs, I was almost 100% infertile as a result and, as a result, the typical first line fertility treatments were not going to work for me.  My treatment team told me that we immediately needed to start preparing for intra-uterine insemination (IUI) because if IUI was not successful, they wanted to start IVF immediately – they didn't know how big the window was between 97% to 100% infertile.
In a matter of a month, I began taking medication, giving myself two shots every day and going to the infertility clinic constantly.  I always joked with my friends and family that I would be better off renting a cot there 😉  To complicate the picture, the insurance that my husband and I had did not cover the treatments or procedures.  It was an exhausting time for my husband and myself, physically, emotionally and financially.  I was terrified about the possibility of the treatments not working…about not ever having the opportunity to be someone's biological Mom.  What I feel so incredibly lucky to say is that there is a happy ending.  After one IUI attempt, I became pregnant with Lincoln and, as they say, the rest is history.
A small part of me feels silly even writing this because now I know so many people who have struggled to have children.  People who try for years, who cannot identify the cause for their infertility, who try procedure after procedure with no results.  It is with this perspective that I feel so incredibly blessed to have the luck we did with IUI and the beautiful baby boy it allowed us to create.
 *****************************************************
A sincere thank you to Colleen for sharing her journey and we hope to see you all this evening at the "Drinks with Docs (& Healthcare Providers)" at Bridge House Tavern from 5-8pm.