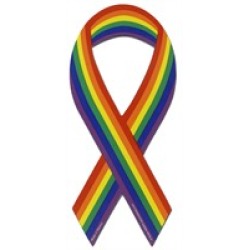 Across the United States this weekend, Lesbian, Gay, Bisexual, and Transgender (LGBT) communities are celebrating the impact that LGBT people have on the world. Parades and other events from New York to Chicago to San Francisco commemorate the gay pride movement. The Oncofertility Consortium frequently hears about the needs of gay cancer patients, especially as it pertains to relationships, sexuality, and fertility. At the recent Cancer Survivorship and Sexual Health Symposium, Anne Katz, RN, PhD, discussed impediments LGBT people may face when diagnosed with cancer.
Katz referred to the "culture of heterosexism" in the medical community, including assumptions of male-female sexual relationships that can marginalize LGBT people. Often this occurs, not through intentional discrimination, but by through a lack of awareness and knowledge in the medical community. Part of this is caused by a paucity of research about cancer in the LGBT community and the research that does exist tends to focus on gay men and the AIDS epidemic.
In addition, once cancer patients do disclose their sexual orientation, medical providers may make assumptions about the patient's desire to have children. A recent survey of oncologists and hematologists found that providers may not discuss sperm banking to all young male cancer patients. Their decision to offer fertility preservation revealed assumptions about patients needs based on characteristics, including sexual orientation.
So what can providers do to facilitate discussions with LGBT patients? Katz stated that small changes in behavior, such as referring to a patient's "partner" rather than "husband" or "wife" opens the door. Other changes include providing same sex-oriented brochures in waiting rooms, making sure the office staff and medical forms are inclusive, and eradicating assumptions that gay men and lesbians are not interested in fertility.
Out With Cancer, a social network for cancer survivors is committed to improving the quality-of-life of LGBT cancer survivors through education about new clinical trials, personal stories, peer-to-peer mentoring, and events. They also work to educate the medical community of the specific needs of LGBT patients, such as discussions about fertility.