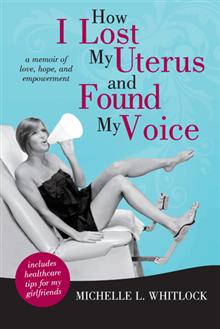 A newly released memoir from cancer survivor, Michelle Whitlock, delves into her experiences with HPV, cervical cancer, fertility preservation and love in a book that you will read from start to finish in one sitting. How I Lost My Uterus and Found My Voice is an honest and (very) candid account of what her 20s looked like, replete with all the things you might expect out of a 20 something: falling in love, travel, finding oneself, heartbreak, etc… Now throw in a whole lot of cancer, embryo banking, chemo, radiation, incontinence and a play by play of "getting your groove" back after your vagina has done a total 180 from what it once was, and you have a very unique story.
At the age of 26, Michelle found out that she had HPV, a sexually transmitted virus infecting 50-60% of sexually active people. Shortly after finding this out, she received the biggest blow of her life – she was diagnosed with invasive cervical cancer.   From that point forward, Michelle made it her mission to ensure her treatment plan was something that worked for her, meaning not only was she going to do everything in her power to beat the cancer, but she was also going to fight just as hard to preserve her fertility for her "maybe babies" one day. At a time when little information was offered regarding fertility preservation, Michelle had to take the reins into her own hands and become her best advocate. Unsure of whether or not she even wanted children, she was not going to let cancer take her options away.
After successfully beating cancer the first time around and avoiding a total hysterectomy by electing to undergo an experimental surgery to eradicate the disease, she was diagnosed with the same cancer just a few years later.  She was left with no other option except chemo, radiation and a total hysterectomy, but as a result of her research and commitment to finding the best care possible, she found a doctor who understood the importance of her fertility just as much as she did. Thus, her "maybe babies" came to fruition and were put on ice for a date… TBD.
I don't want to giveaway any more of her story, but this is a must read for cancer patients, survivors, caregivers or anyone that wants to know what cancer, fertility issues, and sexuality really look like. I highly recommend it for its rawness and the openness with which she shares her experience. Nothing is sugar-coated in these pages – Michelle talks about things that will make you blush from time to time, but they're the things no one talks about, and should be.  It's an inspirational story that reads like a conversation with your girlfriends so if you haven't already, please pick up a copy of How I Lost My Uterus and Found My Voice, by Michelle Whitlock, and see what I have been raving about!