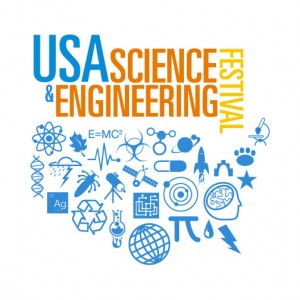 The National Mall in Washington D.C. was the place to be for inquisitive minds this past weekend–the USA Science and Engineering Festival held there on Saturday and Sunday drew crowds of nearly 1 million people who took part in over 1,500 hands-on activities, exhibits, and science shows.  Our own Institute for Women's Health Research had one of these exhibits, where Cathryn Smeyers and I were able to share information about the Women's Health Sciences Program and to help spread the word about Oncofertility.
Did you know that the "pimento" in most cocktail olives isn't really a pimento at all–it's actually made from a compound that comes from seaweed?!?  No?  Well you're not alone–this came as a surprise to most of the 2000 visitors to our booth, each of whom diligently dissected that "little orange thingy" out of an olive and found out what in the world it has to do with women's health.  They found out that the seaweed compound inside some olives is called algina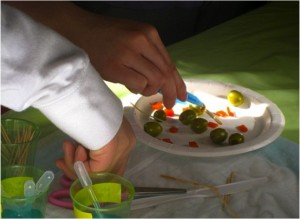 te, and each visitor got to mix some alginate with a calcium solution and watch what happened.  Even kids as young as 2 were eager to give it a try and to squish the little beads that formed when the alginate came in contact with calcium.  Our slightly older audience members were also very interested to find out how researchers at the Oncofertility Consortium are using these little alginate blobs as a sort-of artificial ovary–allowing ovarian follicles placed inside them to hold their 3D shape as they grow, so that we can learn how to grow healthy eggs outside of the body.  To learn more about this process for yourself, check out this animation at myoncofertility.org.
The Festival was a very exciting and inspiring place to be!  It was invigorating to see so many young people excited about all kinds of science, and to hopefully encourage them to become part of the next generation of leaders in science and medicine.  This Festival was the inaugural run of what will hopefully become an annual event.  Be sure to check out the 2010 Expo Days Recap Video to get a taste of what the Festival had to offer!  In the words of President Obama, "Keep exploring, keep asking questions, keep having fun.  The future of this country and the advancements of the next century are in your hands."  "My hope is that this festival is just the beginning for all of you–that's not just the power of science, that's the promise of America."