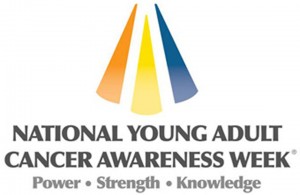 This week is the 10th Annual National Young Adult Cancer Awareness Week, beginning April 2nd and ending on April 8th. In April 2003, National Young Adult Cancer Awareness Week was launched, and organizations and clinical institutions throughout North America began partnering to raise awareness about the unique needs of this age group. The young adult cancer population is defined as anyone who has been diagnosed with cancer between the ages of 15 to 39, and according to the National Cancer Institute (NCI), more than 70,000 young adults are diagnosed with cancer each year.
Young adults with cancer face unique concerns such as fertility, body image, cognitive function, long-term effects, education, insurance and employment. They also deal with distinct issues based on their age group, still reaching for their goals and dreams, which many older cancer patients have already achieved. For many young cancer patients, they envision themselves with a biological family at some point in their lives so fertility is a top concern for the young adult population.
In 2003, when National Young Adult Cancer Awareness Week was founded, there were few groups or organizations advocating for young adults with cancer. Today though, there is a large movement on behalf of this age group providing a number of services, programs, and networking opportunities including the Oncofertility Consortium, Stupid Cancer, and Imerman Angels among so many others.  There is something for everyone!
For more information on community resources for young adults with cancer, please visit the Patients page of our website. You will find support groups and organizations that cater to the specific needs of young adults diagnosed with cancer. In the meantime, help us bring awareness to the young adult cancer community by spreading the word about National Young Adult Cancer Awareness Week!