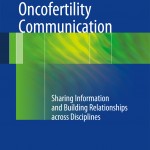 Chapter 14 of Oncofertility Communication: Sharing Information and Building Relationships across Disciplines addresses an extremely important issue in healthcare, insurance coverage.  The authors, Dr. Laxmi Kondapalli and Alice Crisci, wrote Incorporating Insurance Education into the Fertility Preservation Process to outline strategies that may facilitate access to fertility preservation services for patients.
An important component to ensure insurance coverage is the referral to an oncofertility specialist.  This allows patients the opportunity to fully understand the endocrine impact from their specific cancer treatment and all the potential associated side effects including menstrual irregularities, sub-fertility and infertility, sexual dysfunction, metabolic disturbances, cardiovascular and bone health.  Providers should determine what type of pre-authorization is required for the specific insurance companies.  This information can typically be found on their web site.  From there, providers must use the appropriate diagnosis codes for the visits.   For oncofertility patients, it is essential to use the cancer diagnosis as the primary diagnosis code for the consultation.  Beyond that, special V codes for fertility preservation have been developed and are billable medical codes that can be used on reimbursement claims.  Often, these billing measures are coupled with a Letter of Medical Necessity.
Letters of Medical Necessity are used by insurance companies to review benefits coverage and usually include patient name and date of birth, insurance carrier name and patient identification number, clinical diagnosis and ICD code, cancer treatment plan, side effects of treatment plan associated with reproductive health, proposed ICD-10 codes and associated V-codes that you are requesting coverage, case for coverage, physician signature, and contact details.  Chapter 14 outlines, in detail, a list of factors that can be included in the Letter of Medical Necessity.  Read through the chapter for the full list, but an example is guidelines from professional organizations such as the American Society of Clinical Oncology or American Society of Reproductive Medicine.
As we're all aware of, the journey to insurance coverage can often include denial and the start of an appeal process.  The Affordable Care Act ensures a patient's right to appeal health insurance decisions, including asking insurers to reconsider its decision to deny payment for a service or treatment.  Patients typically have to navigate the appeal process independently with the support of the Letter of Medical Necessity from their provider.  Patients can also submit a letter of appeal for fertility preservation on their own behalf and the Oncofertility Consortium has appeal letter templates available on our website.
Unfortunately, many states across the country  do not require insurance coverage for infertility treatment for people who may become infertile as a result of cancer or medical treatments.  While legislature has been introduced in a number of states to expand existing fertility coverage to cover infertility caused by cancer treatment, our work is just beginning.  Advocacy groups, such as the Livestrong Foundation and the Cancer Legal Resource Center, are actively collaborating with key legislators to address this issue and the Oncofertility Consortium is proud to support their efforts.