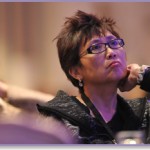 According to the American Cancer Society (ACS), a woman in the United States is diagnosed with breast cancer every three minutes. This breaks down to a 12 percent, or 1 in 8, lifetime risk for women of developing breast cancer in the U.S. and right now, there are about two and a half million breast cancer survivors. Chances are, those of you who are reading this blog have been affected by breast cancer either personally or indirectly, through family and/or friends who have been diagnosed.
For those of you with questions about breast cancer treatment options, family history, diagnosis and support services, the Lynn Sage Breast Cancer Town Hall Meeting will take place on Sunday, October 2nd at Northwestern University's Chicago campus. It is an interactive discussion with Northwestern healthcare providers, providing you with an opportunity to have your questions answered by experts, learn about local and national support networks and meet with breast cancer advocacy groups.
Among the expert panel of healthcare providers will be our own, Kristin Smith, answering any questions you may have regarding fertility preservation and fertility options prior to and following cancer treatment. Joining Kristin will be a panel consisting of a cancer geneticist, radiation oncologist, survivorship and support expert, and a surgical oncologist. It's a great venue to get more information and meet others, who may have gone through or are going through, a similar experience with breast cancer.
The town hall meeting is a free event and open to the public. There will be ample time provided for attendees to ask questions and get answers from our expert panel so come prepared with your most pressing concerns. For more information, including registration and directions, please visit www.cancer.northwestern.edu or call 312.695.1304. Walk-ins are always welcome so don't let a little thing like registration hold you back! The most important thing is that you join us and get the answers and support you need.