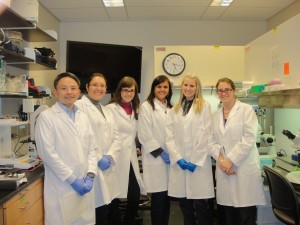 Students and scientist-organizers of the March 12th Oncofertility 101 course
Last week, the Oncofertility Consortium hosted its second Oncofertility 101 course. In this laboratory-based course, organized by Francesca Duncan, PhD, and Jennifer Pahnke, MS, researchers learn the methods to study ovarian follicle growth in an in vitro setting. This intensive one-day course provides four scientists with the opportunity to gain instruction and practice in follicle isolation and encapsulation in alginate. In addition, they learn best practices in follicle culture, imaging, determining follicle quality. The attendees from the most recent course came from Southern Illinois University, University of Colorado, and Innsbruck Medical University in Austria.
Katharina Winkler, MD, a resident in Obstetrics and Gynecology and PhD graduate student in Innsbruck, Austria, traveled the farthest for the course. She also spent some extra time visiting with oncofertility researchers and gaining more practice in the Woodruff lab processing ovarian tissue in different species. She also met with researchers in the Shea lab to discuss ovarian grafting. As a clinician and researcher, she aims to help translate the basic research of these labs into her own practice providing fertility preservation to patients.
Before going back home, Winkler sat down and discussed her research and involvement in the European network in fertility preservation, FertiPROTEKT. This network, which was established in May 2006, by Michael von Wolff and others, includes reproductive experts from across Germany, Austria and Switzerland, who collect information about their fertility preservation patients and success rates. Like, the National Physicians Cooperative in the United States, these expert aim to expand and improve fertility preservation options for young patients. Later this week, these experts will meet to discuss their results at their annual meeting. The network is also in the process of expanding to include researchers from across Europe. We will continue to update you on progress from these and other fertility preservation networks across the globe.