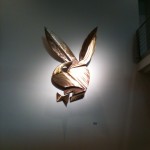 At the Oncofertility Consortium, it's no secret that we believe in the importance of fertility preservation for young cancer patients – it's what we're all about. Research, education, advocacy, clinical care, you name it, we're on top of it and constantly looking for ways we can improve the fertility outcomes of cancer patients. There is a lot that goes into this kind of work, and we receive a tremendous amount of support from the greater cancer community, individuals, academic institutions, clinicians, etc… In other words, it takes a village, and one of those villagers just so happens to be Playboy, Inc. Let me explain…
Men hoping to preserve their fertility before undergoing treatment for cancer or another fertility-threatening disease can cryopreserve, or freeze, their sperm. This is the most established fertility preservation method for males and samples are obtained in what is called a "male production room." Before going into the room, the men are supplied with a "visual tool" to help facilitate this process and in general, a Playboy magazine is what they get.
Due to the fact that many of our male cancer patients are immuno-compromised, meaning that their immune systems are in a fragile state, they need to be provided with a visual tool that is unopened and still wrapped in plastic. This ensures that their health is not compromised in any way.  Hey, it's giggle-inducing I know (I'm smiling as I type this post up), but it's still a link in the chain – a part you may not give much thought to.
Which leads me to this – a big thank you to Playboy, Inc for generously donating a years worth of magazines to the Oncofertility Consortium for our male cancer patients undergoing fertility preservation! Not only are they helping out our patients, but they're also demonstrating their belief in the importance of oncofertility by choosing to support us among the numerous opportunities they have to donate to non-profit organizations. Sometimes, it's the little things that count the most!
Are you a cancer survivor? Help oncofertility researchers study and prevent treatment-induced fertility loss by joining the FIRST online fertility registry for cancer survivors!