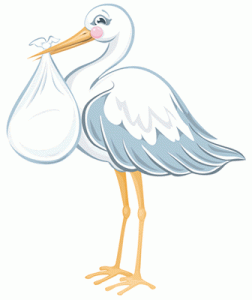 Planning to start a family can be an exciting and exhilarating time. Oftentimes people discuss issues along the lines of finances, space, school districts, career trajectory, etc… The logistics that will have an impact on whether or not you are ready for this next step and/or what you need to do to get ready. Once you've covered all the bases, then comes the fun part, "trying" for baby.  This is how we imagine it goes for most people, but of course it's never that easy and in the case of a young cancer patient or cancer survivor, "trying" for baby can take on a whole new meaning.
Earlier this month, Gilda's Club Chicago launched a new group to address the specific issues cancer patients and survivors face when thinking about starting a family. The group is called, "Starting a Family after Cancer,"  and it's held the first Thursday of every month from 9:30-10:30am on the 5th floor of Prentice Women's Hospital in the Supportive Oncology Suite.  The group is facilitated by Rebecca Fritz, LCSW from Gilda's Club Chicago and Kristin Smith, Fertility Preservation Patient Navigator for the Oncofertility Consortium.
According to Rebecca, the sessions will involve a 30 minute presentation on different topics each week, followed by 30 minutes of open discussion. "We encourage anyone who has an issue around oncofertility to come – young people interested in fertility preservation before beginning treatment, an adult survivor thinking about thawing out an embryo or an adult who wants to start a family and is interested in adoption…" The program was developed with a lot of flexibility to ensure that as their following grows, each individual's needs and concerns can be addressed. "Starting a Family after Cancer," provides a place not only for discussion, but also to share experiences and receive support from the cancer community.
The group welcomes walk-ins, but encourages registration to make sure they have enough space and refreshments for all participants. Contact Kristin Smith at ksmith12@nmff.org if you would like to attend the next session on May 5th. To learn more about this group or other groups offered by Gilda's Club Chicago, please visit www.gildasclubchicago.org.